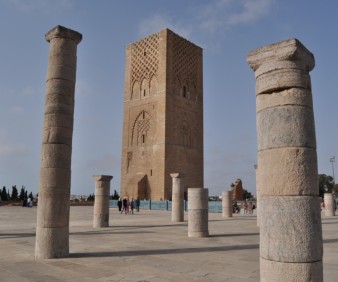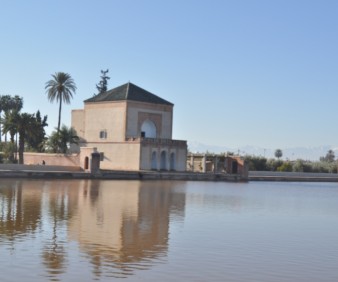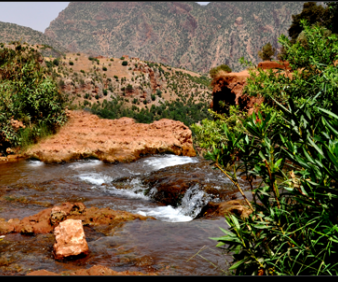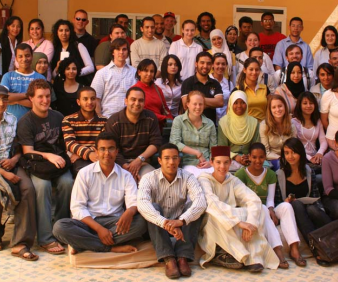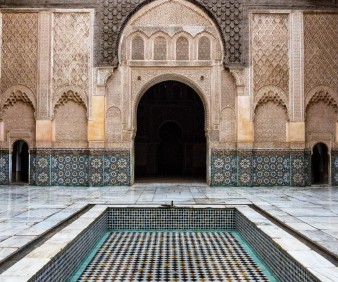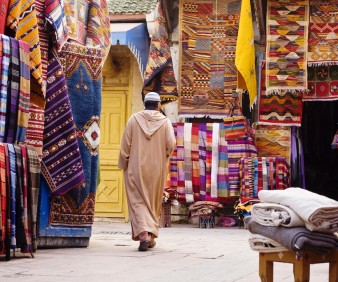 Morocco was discovered by explorers early 19th century as an exotic destination for all kinds of travelers, but in the 60s Morocco was the hot destination of hippies and world travel enthusiasts as a whole. Even today Marrakech is still the Mecca for celebrities and bigwigs VIPs from Europe and North America. Its history, natural beauty, and its superb hospitality is forever an attractive place to devote at least a week to a Morocco adventure trip. We have designed this overland tour to Morocco reminiscent of the golden age of 70s travel and music in Morocco. This active Morocco tour will take you on a trip in the footsteps of Crosby, Stills, and Nash on the Marrakech Express train from Tangier to Marrakech where they composed that hit parade forever song of the Marrakech Express. Music that mesmerized the world and still. We have made that overnight train ride the song is about as a highlight in this magnificent Morocco adventure tour. But you will also explore Rabat, Meknes, Fez, Chefchaouen, and many more highlights for hiking and trekking enthusiasts. If you love music, breathtaking landscapes, daily life in the souks of exotic Medinas then this Marrakech Express tour is for you. You will dance to the Jajouka music like the Rolling Stones did in with tribesman in the Rif Mountains, drum till you drop with Hmadcha sacred music in the holy city of Moulay Idriss like Peter Gabriel once fused in his repertoire. Step back in time and enjoy the lively remnant of medieval times at the Medina of Fes, the city of a unique spirit, intellect, music, art, and culture. The Marrakech Express Tour is a small group with scheduled departures hut can be customized to fit your time of travel and budget to explore the best of Morocco independently. Enjoy our Morocco tours, music, great food, and culture.
DAY TO DAY ITINERARY
Day 1: Orientation Meeting at Casablanca
We will all meet at the hotel in Casablanca at 3:30 pm. Your tour leader will give you a briefing on the whole trip highlights to familiarize you with this exciting journey you are about to embark on. You will also be introduced to your local guide who will take on a historical tour of the city exploring the marvels of Casablanca. Dinner and lodging will be at the hotel. D.
Day 2: Travel from Casablanca to Rabat
After breakfast, the first thing to do is to visit the Hassan II great mosque. This guided tour is optional for those who wish to do it. Hassan II mosque is considered to be the 2nd largest Mosque in the Islamic World. The Gallery of Photography is nearby for those who do not wish to visit the Mosque. Later in the morning, we will catch the 10:30 commuter Train to Rabat. After checking to the hotel, we will our historic tour of Rabat. Later we will break for lunch. We will take you to the Souika where you will find a variety of food stands and small eateries to sample from. We will meet later at 3:00 pm at Bab Souika to start our historic tour of Rabat. A local guide will be with us to show you around Rabat. B.D
Day 3: Rabat – Meknes – Moulay Idriss – Volubilis
Today we will be traveling east in the mainland towards the Atlas Mountains. We will ride in a private Van that will take us to Meknes. We are on a trip to explore the historical and spiritual discoveries of ancient Morocco. Meknes or as we call it the city of palaces is a Little Versailles of Morocco with medieval ramparts and gates reminiscent of an era of glory. Your local guide will take you on a city tour featuring Dar Jamaii and the Mausoleum of Moulay Ismael not to forget Saniat Ramel pools, a 17th-century water reservoir built to supply the city with running water and irrigate its numerous gardens then. Your visit will take you next to Moulay Idris, a holy city to Moroccans as it holds the history of the Morocco first Muslim city. Our first stop will be at the Central Market for a festive lunch the Moroccan way with best traditional eateries and Camel Burger stands, Tastiest food you ever savored from any grill. Later on, your local guide will take you on a historical/spiritual visit of this marvelous dommed hill town of Moulay Idriss Zerhoune. Spend the full afternoon discovering this town then retreat to your guesthouse for a rooftop dinner, overlooking the old city of Moulay Idris that was opened to tourist only in 2005.
Day 4: Moulay Idriss – Fez
Just in the next hill, in a walking distance from Moulay Idris, the Roman ruins of Volubilis will be visible to you. A guided Visit of Volubilis with a site archeological guide is offered to you, then proceed to Fez. We will start by checking to the Riad guesthouse where we will be staying in the Heart of the 9th century old Medina. Then start visiting the outskirts of the Medina and its ramparts, gates, and forts with panoramic views over the Medina. Your discovery tour will bring you to a sunset hiking over the Mount Zalagh. Return to your Riad in the Medina for a home cooked dinner.
Day 5: Fez city tour
Your adventure expedition continues exploring the marvels of Fes, but today it is much interesting than anything you have imagined. Only when you step in the labyrinth of the Medina of Fez that you will realize how different it is to anything you have ever seen before or visualized. Your guide will take on a maze of narrow streets, blind turns, and monuments stepping back in time twelve hundred years ago. Still lively and most authentic. I do not want to take the magic away, wait till you get there. It is an explorer delightful walking adventure. Enjoy your guided tour of Fez. Your full day exploring the Medina of Fez highlights is replete of discoveries and activities. Dinner and show will be at Restaurant la Medina.
Day 6: Fez - Chefchaouen
Today we will use a different way of transportation riding CTM class A bus to Chefchaouen. Your tour leader will assist you with all logistics to have a comfortable ride using public transportation. accompanied by your tour leader. Meet with your local guide upon arrival to Visit Chefchaouen. Return to your hotel in the evening for dinner and accommodation.
Day 7: Chefchaouen – Tangier
Though it is a short drive from Chefchaouen to Tangier it is ceremonial through Berber villages nestled on the Rif Mountains. You will take a public bus with your tour leader to travel like a Moroccan. This is a short drive of an hour through the Rif Mountains. A Morocco Discoveries local guide will be waiting for you to take you on a historical visit to the city of Tangier. This will include Mershan, quarter, the American legation and Forbes Museum. You will also walk through Tangier gran Socco Kasbah where you will have dinner in a typical Moroccan Restaurant with the show. After dinner we ill catch an overnight Marrakech Express train with Couchette when to Marrakech.
Day 8: Marrakech city tour
The morning will bring us to Marrakech. First thing is to have breakfast then check you to your hotel to relax for a couple of hours. We will start your guided walking tour of Marrakech around noon. Our Morocco Discoveries local guide will meet you at the lobby of your hotel to take you on a historical visit of most important highlights of Marrakech. This will feature, Koutoubia, the Jewish quarter and its renovated Synagogues, the Bahia Palace and then the Jamaa el Fna Square. We will end the day in the souks of old Marrakech. We will teach you how to bargain and how to be part of this traditional market without an intermediary. Shopping in Marrakech has become a nightmare though you find all imaginable arts and crafts. Because we are promoting responsible travel in Morocco, we have trained all our staff to the ethics of taking care of our guests and our community to sustain itself. There are shops that cater only for tourists ( we do not deal with them) and then others we know who are more authentic to provide the locals with the best quality goods and prices. The touristy shops have their networking that is not sustainable at all and does not benefit the artisans by any means. Our professional and responsible local guide who is not into this monkey business will advise on goods qualities and help you to deal with artisans directly. Later in the evening, you will get back to your Hotel for dinner and accommodation. We hope that you had the best Morocco adventure tour to remember for a lifetime. End of our services.
What is included:
Transportation in 4X4 vehicles
Services of local guides
Breakfast, and dinner daily
Fees to Monuments and Museums
Overnight Train from Tangier to Marrakech
Hotels Used:
Casablanca: Hotel Ibis, 1 night
Fez: Hotel L'Escale or similar, 2 nights
Chefchaouen: hotel Casa Hassan or similar, one night
Rabat: Riad Oudaya, 1 night
Marrakech: Riad Le coq fou, 2 nights
| DEPARTING | FINISHING | SEATS | TOTAL IN USD | |
| --- | --- | --- | --- | --- |
| Sat 3 Jul 2021 | Sun 11 Jul 2021 | Available | $1485 | INQUIRY |
| Tue 6 Jul 2021 | Wed 14 Jul 2021 | Available | $1465 | INQUIRY |
| Thu 8 Jul 2021 | Fri 16 Jul 2021 | Available | $1465 | INQUIRY |
| Sat 10 Jul 2021 | Sun 18 Jul 2021 | Available | $1485 | INQUIRY |
| Tue 13 Jul 2021 | Wed 21 Jul 2021 | Available | $1465 | INQUIRY |
| Thu 15 Jul 2021 | Fri 23 Jul 2021 | Available | $1465 | INQUIRY |
| Sat 17 Jul 2021 | Sun 25 Jul 2021 | Available | $1485 | INQUIRY |
| Tue 20 Jul 2021 | Wed 28 Jul 2021 | Available | $1465 | INQUIRY |
| Thu 22 Jul 2021 | Fri 30 Jul 2021 | Available | $1465 | INQUIRY |
| Sat 24 Jul 2021 | Sun 1 Aug 2021 | Available | $1485 | INQUIRY |
| Tue 27 Jul 2021 | Wed 4 Aug 2021 | Available | $1465 | INQUIRY |
| Thu 29 Jul 2021 | Fri 6 Aug 2021 | Available | $1465 | INQUIRY |
| Sat 31 Jul 2021 | Sun 8 Aug 2021 | Available | $1485 | INQUIRY |
| Tue 3 Aug 2021 | Wed 11 Aug 2021 | Available | $1465 | INQUIRY |
| Thu 5 Aug 2021 | Fri 13 Aug 2021 | Available | $1465 | INQUIRY |
| Sat 7 Aug 2021 | Sun 15 Aug 2021 | Available | $1485 | INQUIRY |
| Tue 10 Aug 2021 | Wed 18 Aug 2021 | Available | $1465 | INQUIRY |
| Thu 12 Aug 2021 | Fri 20 Aug 2021 | Available | $1465 | INQUIRY |
| Sat 14 Aug 2021 | Sun 22 Aug 2021 | Available | $1485 | INQUIRY |
| Tue 17 Aug 2021 | Wed 25 Aug 2021 | Available | $1465 | INQUIRY |
| Thu 19 Aug 2021 | Fri 27 Aug 2021 | Available | $1465 | INQUIRY |
| Sat 21 Aug 2021 | Sun 29 Aug 2021 | Available | $1485 | INQUIRY |
| Tue 24 Aug 2021 | Wed 1 Sep 2021 | Available | $1465 | INQUIRY |
| Thu 26 Aug 2021 | Fri 3 Sep 2021 | Available | $1465 | INQUIRY |
| Sat 28 Aug 2021 | Sun 5 Sep 2021 | Available | $1485 | INQUIRY |
| Tue 31 Aug 2021 | Wed 8 Sep 2021 | Available | $1465 | INQUIRY |
| Thu 2 Sep 2021 | Fri 10 Sep 2021 | Available | $1465 | INQUIRY |
| Sat 4 Sep 2021 | Sun 12 Sep 2021 | Available | $1485 | INQUIRY |
| Tue 7 Sep 2021 | Wed 15 Sep 2021 | Available | $1465 | INQUIRY |
| Thu 9 Sep 2021 | Fri 17 Sep 2021 | Available | $1465 | INQUIRY |
| Sat 11 Sep 2021 | Sun 19 Sep 2021 | Available | $1485 | INQUIRY |
| Tue 14 Sep 2021 | Wed 22 Sep 2021 | Available | $1465 | INQUIRY |
| Thu 16 Sep 2021 | Fri 24 Sep 2021 | Available | $1465 | INQUIRY |
| Sat 18 Sep 2021 | Sun 26 Sep 2021 | Available | $1485 | INQUIRY |
| Tue 21 Sep 2021 | Wed 29 Sep 2021 | Available | $1465 | INQUIRY |
| Thu 23 Sep 2021 | Fri 1 Oct 2021 | Available | $1465 | INQUIRY |
| Sat 25 Sep 2021 | Sun 3 Oct 2021 | Available | $1485 | INQUIRY |
| Tue 28 Sep 2021 | Wed 6 Oct 2021 | Available | $1465 | INQUIRY |
| Thu 30 Sep 2021 | Fri 8 Oct 2021 | Available | $1465 | INQUIRY |
| Sat 2 Oct 2021 | Sun 10 Oct 2021 | Available | $1485 | INQUIRY |
| Tue 5 Oct 2021 | Wed 13 Oct 2021 | Available | $1465 | INQUIRY |
| Thu 7 Oct 2021 | Fri 15 Oct 2021 | Available | $1465 | INQUIRY |
| Sat 9 Oct 2021 | Sun 17 Oct 2021 | Available | $1485 | INQUIRY |
| Tue 12 Oct 2021 | Wed 20 Oct 2021 | Available | $1465 | INQUIRY |
| Thu 14 Oct 2021 | Fri 22 Oct 2021 | Available | $1465 | INQUIRY |
| Sat 16 Oct 2021 | Sun 24 Oct 2021 | Available | $1485 | INQUIRY |
| Tue 19 Oct 2021 | Wed 27 Oct 2021 | Available | $1465 | INQUIRY |
| Thu 21 Oct 2021 | Fri 29 Oct 2021 | Available | $1465 | INQUIRY |
| Sat 23 Oct 2021 | Sun 31 Oct 2021 | Available | $1485 | INQUIRY |
| Tue 26 Oct 2021 | Wed 3 Nov 2021 | Available | $1465 | INQUIRY |
| Thu 28 Oct 2021 | Fri 5 Nov 2021 | Available | $1465 | INQUIRY |
| Sat 30 Oct 2021 | Sun 7 Nov 2021 | Available | $1485 | INQUIRY |
| Tue 2 Nov 2021 | Wed 10 Nov 2021 | Available | $1465 | INQUIRY |
| Thu 4 Nov 2021 | Fri 12 Nov 2021 | Available | $1465 | INQUIRY |
| Sat 6 Nov 2021 | Sun 14 Nov 2021 | Available | $1485 | INQUIRY |
| Tue 9 Nov 2021 | Wed 17 Nov 2021 | Available | $1465 | INQUIRY |
| Thu 11 Nov 2021 | Fri 19 Nov 2021 | Available | $1465 | INQUIRY |
| Sat 13 Nov 2021 | Sun 21 Nov 2021 | Available | $1485 | INQUIRY |
| Tue 16 Nov 2021 | Wed 24 Nov 2021 | Available | $1465 | INQUIRY |
| Thu 18 Nov 2021 | Fri 26 Nov 2021 | Available | $1465 | INQUIRY |
| Sat 20 Nov 2021 | Sun 28 Nov 2021 | Available | $1485 | INQUIRY |
| Tue 23 Nov 2021 | Wed 1 Dec 2021 | Available | $1465 | INQUIRY |
| Thu 25 Nov 2021 | Fri 3 Dec 2021 | Available | $1465 | INQUIRY |
| Sat 27 Nov 2021 | Sun 5 Dec 2021 | Available | $1485 | INQUIRY |
| Tue 30 Nov 2021 | Wed 8 Dec 2021 | Available | $1465 | INQUIRY |
| Thu 2 Dec 2021 | Fri 10 Dec 2021 | Available | $1465 | INQUIRY |
| Sat 4 Dec 2021 | Sun 12 Dec 2021 | Available | $1485 | INQUIRY |
| Tue 7 Dec 2021 | Wed 15 Dec 2021 | Available | $1465 | INQUIRY |
| Thu 9 Dec 2021 | Fri 17 Dec 2021 | Available | $1465 | INQUIRY |
| Sat 11 Dec 2021 | Sun 19 Dec 2021 | Available | $1485 | INQUIRY |
| Tue 14 Dec 2021 | Wed 22 Dec 2021 | Available | $1465 | INQUIRY |
| Thu 16 Dec 2021 | Fri 24 Dec 2021 | Available | $1465 | INQUIRY |
| Sat 18 Dec 2021 | Sun 26 Dec 2021 | Available | $1485 | INQUIRY |
| Tue 21 Dec 2021 | Wed 29 Dec 2021 | Available | $1465 | INQUIRY |
| Thu 23 Dec 2021 | Fri 31 Dec 2021 | Available | $1465 | INQUIRY |
| Sat 25 Dec 2021 | Sun 2 Jan 2022 | Available | $1485 | INQUIRY |
| Tue 28 Dec 2021 | Wed 5 Jan 2022 | Available | $1465 | INQUIRY |
| Thu 30 Dec 2021 | Fri 7 Jan 2022 | Available | $1465 | INQUIRY |
| Sat 1 Jan 2022 | Sun 9 Jan 2022 | Available | $1485 | INQUIRY |
| Tue 4 Jan 2022 | Wed 12 Jan 2022 | Available | $1465 | INQUIRY |
| Thu 6 Jan 2022 | Fri 14 Jan 2022 | Available | $1465 | INQUIRY |
| Sat 8 Jan 2022 | Sun 16 Jan 2022 | Available | $1485 | INQUIRY |
| Tue 11 Jan 2022 | Wed 19 Jan 2022 | Available | $1465 | INQUIRY |
| Thu 13 Jan 2022 | Fri 21 Jan 2022 | Available | $1465 | INQUIRY |
| Sat 15 Jan 2022 | Sun 23 Jan 2022 | Available | $1485 | INQUIRY |
| Tue 18 Jan 2022 | Wed 26 Jan 2022 | Available | $1465 | INQUIRY |
| Thu 20 Jan 2022 | Fri 28 Jan 2022 | Available | $1465 | INQUIRY |
| Sat 22 Jan 2022 | Sun 30 Jan 2022 | Available | $1485 | INQUIRY |
| Tue 25 Jan 2022 | Wed 2 Feb 2022 | Available | $1465 | INQUIRY |
| Thu 27 Jan 2022 | Fri 4 Feb 2022 | Available | $1465 | INQUIRY |
| Sat 29 Jan 2022 | Sun 6 Feb 2022 | Available | $1485 | INQUIRY |
| Tue 1 Feb 2022 | Wed 9 Feb 2022 | Available | $1465 | INQUIRY |
| Thu 3 Feb 2022 | Fri 11 Feb 2022 | Available | $1465 | INQUIRY |
| Sat 5 Feb 2022 | Sun 13 Feb 2022 | Available | $1485 | INQUIRY |
| Tue 8 Feb 2022 | Wed 16 Feb 2022 | Available | $1465 | INQUIRY |
| Thu 10 Feb 2022 | Fri 18 Feb 2022 | Available | $1465 | INQUIRY |
| Sat 12 Feb 2022 | Sun 20 Feb 2022 | Available | $1485 | INQUIRY |
| Tue 15 Feb 2022 | Wed 23 Feb 2022 | Available | $1465 | INQUIRY |
| Thu 17 Feb 2022 | Fri 25 Feb 2022 | Available | $1465 | INQUIRY |
| Sat 19 Feb 2022 | Sun 27 Feb 2022 | Available | $1485 | INQUIRY |
| Tue 22 Feb 2022 | Wed 2 Mar 2022 | Available | $1465 | INQUIRY |
| Thu 24 Feb 2022 | Fri 4 Mar 2022 | Available | $1465 | INQUIRY |
| Sat 26 Feb 2022 | Sun 6 Mar 2022 | Available | $1485 | INQUIRY |
| Tue 1 Mar 2022 | Wed 9 Mar 2022 | Available | $1465 | INQUIRY |
| Thu 3 Mar 2022 | Fri 11 Mar 2022 | Available | $1465 | INQUIRY |
| Sat 5 Mar 2022 | Sun 13 Mar 2022 | Available | $1485 | INQUIRY |
| Tue 8 Mar 2022 | Wed 16 Mar 2022 | Available | $1465 | INQUIRY |
| Thu 10 Mar 2022 | Fri 18 Mar 2022 | Available | $1465 | INQUIRY |
| Sat 12 Mar 2022 | Sun 20 Mar 2022 | Available | $1485 | INQUIRY |
| Tue 15 Mar 2022 | Wed 23 Mar 2022 | Available | $1465 | INQUIRY |
| Thu 17 Mar 2022 | Fri 25 Mar 2022 | Available | $1465 | INQUIRY |
| Sat 19 Mar 2022 | Sun 27 Mar 2022 | Available | $1485 | INQUIRY |
| Tue 22 Mar 2022 | Wed 30 Mar 2022 | Available | $1465 | INQUIRY |
| Thu 24 Mar 2022 | Fri 1 Apr 2022 | Available | $1465 | INQUIRY |
| Sat 26 Mar 2022 | Sun 3 Apr 2022 | Available | $1485 | INQUIRY |
| Tue 29 Mar 2022 | Wed 6 Apr 2022 | Available | $1465 | INQUIRY |
| Thu 31 Mar 2022 | Fri 8 Apr 2022 | Available | $1465 | INQUIRY |
| Sat 2 Apr 2022 | Sun 10 Apr 2022 | Available | $1485 | INQUIRY |
| Tue 5 Apr 2022 | Wed 13 Apr 2022 | Available | $1465 | INQUIRY |
| Thu 7 Apr 2022 | Fri 15 Apr 2022 | Available | $1465 | INQUIRY |
| Sat 9 Apr 2022 | Sun 17 Apr 2022 | Available | $1485 | INQUIRY |
| Tue 12 Apr 2022 | Wed 20 Apr 2022 | Available | $1465 | INQUIRY |
| Thu 14 Apr 2022 | Fri 22 Apr 2022 | Available | $1465 | INQUIRY |
| Sat 16 Apr 2022 | Sun 24 Apr 2022 | Available | $1485 | INQUIRY |
| Tue 19 Apr 2022 | Wed 27 Apr 2022 | Available | $1465 | INQUIRY |
| Thu 21 Apr 2022 | Fri 29 Apr 2022 | Available | $1465 | INQUIRY |
| Sat 23 Apr 2022 | Sun 1 May 2022 | Available | $1485 | INQUIRY |
| Tue 26 Apr 2022 | Wed 4 May 2022 | Available | $1465 | INQUIRY |
| Thu 28 Apr 2022 | Fri 6 May 2022 | Available | $1465 | INQUIRY |
| Sat 30 Apr 2022 | Sun 8 May 2022 | Available | $1485 | INQUIRY |
| Tue 3 May 2022 | Wed 11 May 2022 | Available | $1465 | INQUIRY |
| Thu 5 May 2022 | Fri 13 May 2022 | Available | $1465 | INQUIRY |
| Sat 7 May 2022 | Sun 15 May 2022 | Available | $1485 | INQUIRY |
| Tue 10 May 2022 | Wed 18 May 2022 | Available | $1465 | INQUIRY |
| Thu 12 May 2022 | Fri 20 May 2022 | Available | $1465 | INQUIRY |
| Sat 14 May 2022 | Sun 22 May 2022 | Available | $1485 | INQUIRY |
| Tue 17 May 2022 | Wed 25 May 2022 | Available | $1465 | INQUIRY |
| Thu 19 May 2022 | Fri 27 May 2022 | Available | $1465 | INQUIRY |
| Sat 21 May 2022 | Sun 29 May 2022 | Available | $1485 | INQUIRY |
| Tue 24 May 2022 | Wed 1 Jun 2022 | Available | $1465 | INQUIRY |
| Thu 26 May 2022 | Fri 3 Jun 2022 | Available | $1465 | INQUIRY |
| Sat 28 May 2022 | Sun 5 Jun 2022 | Available | $1485 | INQUIRY |
| Tue 31 May 2022 | Wed 8 Jun 2022 | Available | $1465 | INQUIRY |
| Thu 2 Jun 2022 | Fri 10 Jun 2022 | Available | $1465 | INQUIRY |
| Sat 4 Jun 2022 | Sun 12 Jun 2022 | Available | $1485 | INQUIRY |
| Tue 7 Jun 2022 | Wed 15 Jun 2022 | Available | $1465 | INQUIRY |
| Thu 9 Jun 2022 | Fri 17 Jun 2022 | Available | $1465 | INQUIRY |
| Sat 11 Jun 2022 | Sun 19 Jun 2022 | Available | $1485 | INQUIRY |
| Tue 14 Jun 2022 | Wed 22 Jun 2022 | Available | $1465 | INQUIRY |
| Thu 16 Jun 2022 | Fri 24 Jun 2022 | Available | $1465 | INQUIRY |
| Sat 18 Jun 2022 | Sun 26 Jun 2022 | Available | $1485 | INQUIRY |
| Tue 21 Jun 2022 | Wed 29 Jun 2022 | Available | $1465 | INQUIRY |
| Thu 23 Jun 2022 | Fri 1 Jul 2022 | Available | $1465 | INQUIRY |
| Sat 25 Jun 2022 | Sun 3 Jul 2022 | Available | $1485 | INQUIRY |
| Tue 28 Jun 2022 | Wed 6 Jul 2022 | Available | $1465 | INQUIRY |
| Thu 30 Jun 2022 | Fri 8 Jul 2022 | Available | $1465 | INQUIRY |
| Sat 2 Jul 2022 | Sun 10 Jul 2022 | Available | $1485 | INQUIRY |
| Tue 5 Jul 2022 | Wed 13 Jul 2022 | Available | $1465 | INQUIRY |
| Thu 7 Jul 2022 | Fri 15 Jul 2022 | Available | $1465 | INQUIRY |
| Sat 9 Jul 2022 | Sun 17 Jul 2022 | Available | $1485 | INQUIRY |
| Tue 12 Jul 2022 | Wed 20 Jul 2022 | Available | $1465 | INQUIRY |
| Thu 14 Jul 2022 | Fri 22 Jul 2022 | Available | $1465 | INQUIRY |
| Sat 16 Jul 2022 | Sun 24 Jul 2022 | Available | $1485 | INQUIRY |
| Tue 19 Jul 2022 | Wed 27 Jul 2022 | Available | $1465 | INQUIRY |
| Thu 21 Jul 2022 | Fri 29 Jul 2022 | Available | $1465 | INQUIRY |
| Sat 23 Jul 2022 | Sun 31 Jul 2022 | Available | $1485 | INQUIRY |
| Tue 26 Jul 2022 | Wed 3 Aug 2022 | Available | $1465 | INQUIRY |
| Thu 28 Jul 2022 | Fri 5 Aug 2022 | Available | $1465 | INQUIRY |
| Sat 30 Jul 2022 | Sun 7 Aug 2022 | Available | $1485 | INQUIRY |
| Tue 2 Aug 2022 | Wed 10 Aug 2022 | Available | $1465 | INQUIRY |
| Thu 4 Aug 2022 | Fri 12 Aug 2022 | Available | $1465 | INQUIRY |
| Sat 6 Aug 2022 | Sun 14 Aug 2022 | Available | $1485 | INQUIRY |
| Tue 9 Aug 2022 | Wed 17 Aug 2022 | Available | $1465 | INQUIRY |
| Thu 11 Aug 2022 | Fri 19 Aug 2022 | Available | $1465 | INQUIRY |
| Sat 13 Aug 2022 | Sun 21 Aug 2022 | Available | $1485 | INQUIRY |
| Tue 16 Aug 2022 | Wed 24 Aug 2022 | Available | $1465 | INQUIRY |
| Thu 18 Aug 2022 | Fri 26 Aug 2022 | Available | $1465 | INQUIRY |
| Sat 20 Aug 2022 | Sun 28 Aug 2022 | Available | $1485 | INQUIRY |
| Tue 23 Aug 2022 | Wed 31 Aug 2022 | Available | $1465 | INQUIRY |
| Thu 25 Aug 2022 | Fri 2 Sep 2022 | Available | $1465 | INQUIRY |
| Sat 27 Aug 2022 | Sun 4 Sep 2022 | Available | $1485 | INQUIRY |
| Tue 30 Aug 2022 | Wed 7 Sep 2022 | Available | $1465 | INQUIRY |
| Thu 1 Sep 2022 | Fri 9 Sep 2022 | Available | $1465 | INQUIRY |
| Sat 3 Sep 2022 | Sun 11 Sep 2022 | Available | $1485 | INQUIRY |
| Tue 6 Sep 2022 | Wed 14 Sep 2022 | Available | $1465 | INQUIRY |
| Thu 8 Sep 2022 | Fri 16 Sep 2022 | Available | $1465 | INQUIRY |
| Sat 10 Sep 2022 | Sun 18 Sep 2022 | Available | $1485 | INQUIRY |
| Tue 13 Sep 2022 | Wed 21 Sep 2022 | Available | $1465 | INQUIRY |
| Thu 15 Sep 2022 | Fri 23 Sep 2022 | Available | $1465 | INQUIRY |
| Sat 17 Sep 2022 | Sun 25 Sep 2022 | Available | $1485 | INQUIRY |
| Tue 20 Sep 2022 | Wed 28 Sep 2022 | Available | $1465 | INQUIRY |
| Thu 22 Sep 2022 | Fri 30 Sep 2022 | Available | $1465 | INQUIRY |
| Sat 24 Sep 2022 | Sun 2 Oct 2022 | Available | $1485 | INQUIRY |
| Tue 27 Sep 2022 | Wed 5 Oct 2022 | Available | $1465 | INQUIRY |
| Thu 29 Sep 2022 | Fri 7 Oct 2022 | Available | $1465 | INQUIRY |
| Sat 1 Oct 2022 | Sun 9 Oct 2022 | Available | $1485 | INQUIRY |
| Tue 4 Oct 2022 | Wed 12 Oct 2022 | Available | $1465 | INQUIRY |
| Thu 6 Oct 2022 | Fri 14 Oct 2022 | Available | $1465 | INQUIRY |
| Sat 8 Oct 2022 | Sun 16 Oct 2022 | Available | $1485 | INQUIRY |
| Tue 11 Oct 2022 | Wed 19 Oct 2022 | Available | $1465 | INQUIRY |
| Thu 13 Oct 2022 | Fri 21 Oct 2022 | Available | $1465 | INQUIRY |
| Sat 15 Oct 2022 | Sun 23 Oct 2022 | Available | $1485 | INQUIRY |
| Tue 18 Oct 2022 | Wed 26 Oct 2022 | Available | $1465 | INQUIRY |
| Thu 20 Oct 2022 | Fri 28 Oct 2022 | Available | $1465 | INQUIRY |
| Sat 22 Oct 2022 | Sun 30 Oct 2022 | Available | $1485 | INQUIRY |
| Tue 25 Oct 2022 | Wed 2 Nov 2022 | Available | $1465 | INQUIRY |
| Thu 27 Oct 2022 | Fri 4 Nov 2022 | Available | $1465 | INQUIRY |
| Sat 29 Oct 2022 | Sun 6 Nov 2022 | Available | $1485 | INQUIRY |
| Tue 1 Nov 2022 | Wed 9 Nov 2022 | Available | $1465 | INQUIRY |
| Thu 3 Nov 2022 | Fri 11 Nov 2022 | Available | $1465 | INQUIRY |
| Sat 5 Nov 2022 | Sun 13 Nov 2022 | Available | $1485 | INQUIRY |
| Tue 8 Nov 2022 | Wed 16 Nov 2022 | Available | $1465 | INQUIRY |
| Thu 10 Nov 2022 | Fri 18 Nov 2022 | Available | $1465 | INQUIRY |
| Sat 12 Nov 2022 | Sun 20 Nov 2022 | Available | $1485 | INQUIRY |
| Tue 15 Nov 2022 | Wed 23 Nov 2022 | Available | $1465 | INQUIRY |
| Thu 17 Nov 2022 | Fri 25 Nov 2022 | Available | $1465 | INQUIRY |
| Sat 19 Nov 2022 | Sun 27 Nov 2022 | Available | $1485 | INQUIRY |
| Tue 22 Nov 2022 | Wed 30 Nov 2022 | Available | $1465 | INQUIRY |
| Thu 24 Nov 2022 | Fri 2 Dec 2022 | Available | $1465 | INQUIRY |
| Sat 26 Nov 2022 | Sun 4 Dec 2022 | Available | $1485 | INQUIRY |
| Tue 29 Nov 2022 | Wed 7 Dec 2022 | Available | $1465 | INQUIRY |
| Thu 1 Dec 2022 | Fri 9 Dec 2022 | Available | $1465 | INQUIRY |
| Sat 3 Dec 2022 | Sun 11 Dec 2022 | Available | $1485 | INQUIRY |
| Tue 6 Dec 2022 | Wed 14 Dec 2022 | Available | $1465 | INQUIRY |
| Thu 8 Dec 2022 | Fri 16 Dec 2022 | Available | $1465 | INQUIRY |
| Sat 10 Dec 2022 | Sun 18 Dec 2022 | Available | $1485 | INQUIRY |
| Tue 13 Dec 2022 | Wed 21 Dec 2022 | Available | $1465 | INQUIRY |
| Thu 15 Dec 2022 | Fri 23 Dec 2022 | Available | $1465 | INQUIRY |
| Sat 17 Dec 2022 | Sun 25 Dec 2022 | Available | $1485 | INQUIRY |
| Tue 20 Dec 2022 | Wed 28 Dec 2022 | Available | $1465 | INQUIRY |
| Thu 22 Dec 2022 | Fri 30 Dec 2022 | Available | $1465 | INQUIRY |
| Sat 24 Dec 2022 | Sun 1 Jan 2023 | Available | $1485 | INQUIRY |
| Tue 27 Dec 2022 | Wed 4 Jan 2023 | Available | $1465 | INQUIRY |
Cost per person: $1485 USD
Single supplement: $265 USD
MAKING AN INQUIRY
Most tours are customized for private travel according to your preferences and dates. Click below to tell us what you're looking for:
Customize This Trip For Me